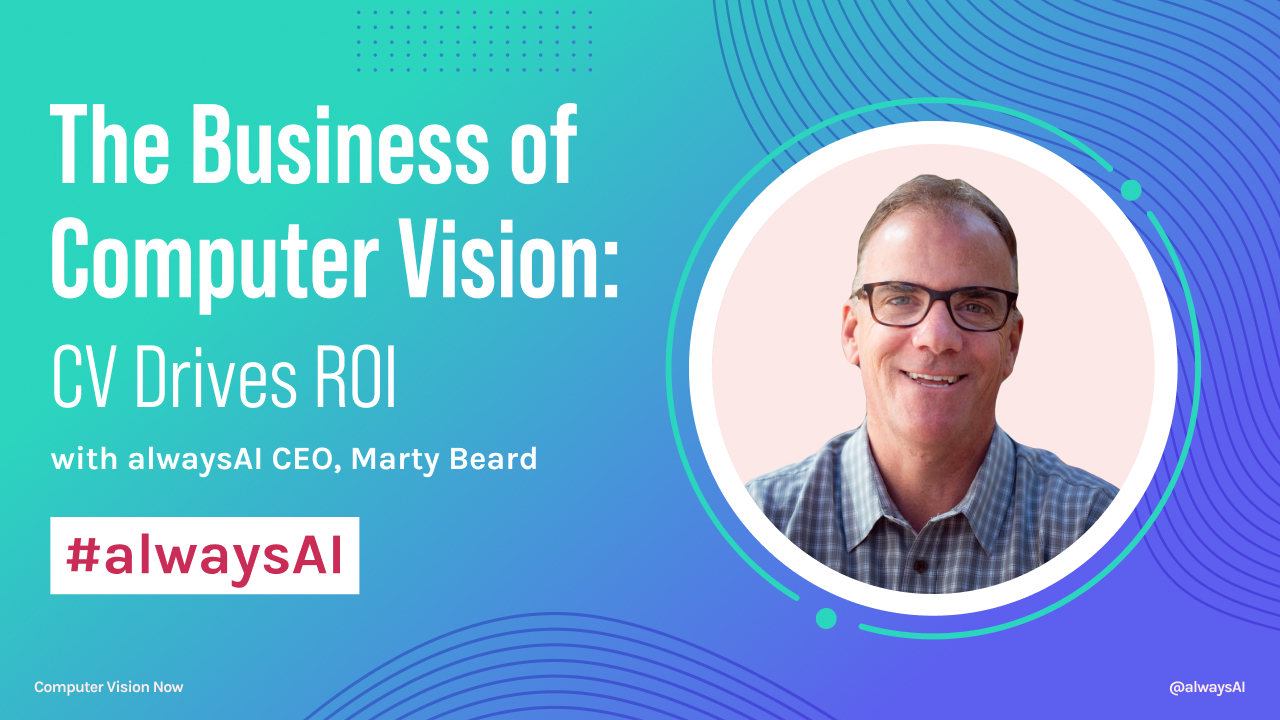 Follow along as alwaysAI CEO, Marty Beard, discusses how Computer Vision enables enterprises to achieve higher ROI through lower development costs and higher top-line revenue.
Why are developers and enterprises embracing Computer Vision?
Why are developers and enterprises embracing Computer Vision? CV enables enterprises to obtain valuable information crucial to improving their operations and increasing their ROI. Computer Vision is becoming a best practice. As a software company serving thousands of developers, we've seen industries across the entire value chain use Computer Vision to improve their top-line and also support their bottom-line. 
Industrial sectors, such as manufacturing and construction, are using Computer Vision to reduce waste, utilize preventative maintenance, and ensure a safe working environment. We are also seeing retail innovators use this new technology to create an optimized digital presence, improve operations, raise profits, and gain a strategic advantage over their competition. 
According to a recent survey, 45% of retailers intend to implement Computer Vision in the next 2 years. In this digital era, consumers are seeking personalized products and services, and AI/ML solutions in retail are helping businesses align their offerings with the expectations of customers. The retail industry is using Computer Vision to gain powerful real-time insight into the buying behavior of their customers; CV allows businesses to act fast and create better shopping experiences for their customers to raise profits and boost ROI. 
What is the ROI of implementing Computer Vision?
There are some key questions you need to ask when thinking about embracing this new technology:
What is the application that you want to employ?
How many edge devices do you plan on deploying this application onto?
How often is this application going to run?
How often do you plan on making changes to your application?
All of these questions can have a big impact on the cost and the revenue of implementing Computer Vision. With the alwaysAI platform, enterprises can boost their ROI 5x higher than they would if they were to hire a consultant or build an in-house team. The alwaysAI platform makes leveraging powerful Computer Vision insights easy and affordable with advanced model training and deployment tools and dedicated machine learning experts.
The Value We Provide
alwaysAI's cutting-edge development platform enables developers to prototype, implement, and deploy computer vision applications onto IoT devices at scale.  Enterprises can achieve higher ROI through lower development costs, break-through business analytics powered by AI, and scale their IoT deployments faster. Customers leverage insights gained through the use of the alwaysAI platform to make effective business solutions. This is quickly becoming a best practice for all industries and essential to achieving a competitive advantage in the years ahead. Make advanced AI easy for your organization. Register for free to get started today, or schedule a demo and talk to our Computer Vision experts about your business.
We can't wait to see what you build!
See below for the full video, or click here.
---
About alwaysAI
alwaysAI provides developers and enterprises a comprehensive platform for building, deploying and managing computer vision applications on IoT devices. We make computer vision come alive on the edge - where work and life happens. The alwaysAI platform offers a catalog of pre-trained models, a low-code model training toolkit, and a powerful set of APIs to help developers at all levels build and customize CV apps. alwaysAI has an easy deployment process and a state-of-the-art run-time engine to accelerate computer vision apps into production quickly, securely, and affordably.
If you haven't already registered in alwaysAI. Please do so! It's super easy to sign up just follow the link and get building and coding quickly.